Space History for March 4
---
If you are not already a subscriber, you are welcome to enter your email address here to sign up to receive the Space History newsletter on a daily basis. Under no circumstances will we release your legitimate email address entered here to outside persons or organizations, and it will only be used for mailing the specific information you have requested.
| | |
| --- | --- |
| Enter your email address here: | |
Unsubscribe instructions are included in every newsletter issue in case you decide you no longer wish to receive it.
Note: We record the IP address from which subscriptions are entered to help prevent SPAM abuses.
---
Race To Space
Someone will win the prize...
... but at what cost?
Visit RaceToSpaceProject.com to find out more!
---
1675

John Flamsteed was appointed the first Astronomer Royal of England.
https://en.wikipedia.org/wiki/John_Flamsteed
1861
E. W. Tempel discovered asteroid #64 Angelina.
1862
Born, Robert Emden, Swiss astrophysicist (developed a theory of expansion and compression of gas spheres and applied it to stellar structure)
https://en.wikipedia.org/wiki/Robert_Emden
1892
M. Wolf discovered asteroid #325 Heidelberga.
1902
M. Wolf discovered asteroid #483 Seppina.
1904
Born, George Gamow, nuclear physicist, cosmologist, writer, early advocate and developer of Lemaitre's Big Bang theory
https://en.wikipedia.org/wiki/George_Gamow
1906
M. Wolf discovered asteroid #590 Tomyris.
1907
A. Kopff discovered asteroid #627 Charis.
1909
Born, Vladimir Pavlovich Barmin, Russian Chief Designer 1941-1993 of GSKB SpetsMash; pre-eminent designer of Soviet rocket launch complexes
Vladimir Pavlovich Barmin (4 March (17 March Old Style date) 1909 - 17 July 1993) received his engineering degree from the Bauman MVTU (Moscow Higher Technical University) in 1935, and began work in the Kompresor Factory. By 1941, he had become the head of the design bureau that designed the Katyusha barrage rocket system which was very effectively used by Soviet forces in World War II. After the war, he was assigned to develop launch equipment for the Russian copies of German missiles. He went on to become the pre-eminent Soviet designer of rocket mobile launchers, fixed launch complexes, and missile silos, culminating in the design and construction of the immense facilities at Baikonur for launch of the N1 and Energia super-boosters. Barmin also supervised design of the planned Soviet Lunar base until that project was terminated in 1974. He received innumerable awards and decorations for his service to the Soviet Union in the missile and space race, and was named an Academician of the Academy of Sciences in 1966.
https://en.wikipedia.org/wiki/Vladimir_Barmin
1923
Born, Patrick Alfred Caldwell-Moore, English astronomer, writer, president of the British Astronomical Association, co-founder and president of the Society for Popular Astronomy
https://en.wikipedia.org/wiki/Patrick_Moore
1932
H. E. Wood discovered asteroid #1241 Dysona.
1937
L. Boyer discovered asteroids #1415 Malautra and #1416 Renauxa.
1959
Pioneer 4 became the first US spacecraft to reach the vicinity of the Moon, passing at a distance of 37,000 mi (60,000 km).
https://nssdc.gsfc.nasa.gov/nmc/spacecraft/display.action?id=1959-013A
1967
NASA's Lunar Orbiter 3 stopped returning pictures of the Lunar surface when the film advance motor burned out with about 25% of the frames on the takeup reel, unable to be read.
The Lunar Orbiter 3 spacecraft was designed primarily to photograph areas of the Lunar surface for confirmation of safe landing sites for the Surveyor and Apollo missions. It was also equipped to collect selenodetic, radiation intensity, and micrometeoroid impact data. The spacecraft was placed in a cislunar trajectory and injected into an elliptical near-equatorial (210.2 km x 1801.9 km with an inclination of 20.9 degrees) Lunar orbit on 8 February at 21:54 UT. After four days (25 orbits) of tracking the orbit was changed to 55 km x 1847 km. The spacecraft acquired photographic data from 15 February to 23 February 1967, and readout occurred through 2 March 1967. The film advance mechanism started showing erratic behavior, resulting in a decision to begin readout of the frames earlier than planned. The frames were read out successfully until 4 March when the film advance motor burned out, leaving about 25% of the frames on the takeup reel, unable to be read.

149 medium resolution and 477 high resolution frames were returned from the Moon. The frames were of excellent quality, with resolution down to 1 meter. One of the frames included the Surveyor 1 landing site, with sufficient detail to permit identification of the spacecraft's location on the surface. Accurate data were acquired from all of the other experiments throughout the mission. The spacecraft was used for tracking purposes until it impacted the Lunar surface on command at 14.3 degrees N latitude, 97.7 degrees W longitude (selenographic coordinates) on 9 October 1967.
https://nssdc.gsfc.nasa.gov/nmc/spacecraft/display.action?id=1967-008A
1968 13:12:00 GMT
NASA launched OGO (Orbiting Geophysical Observatory) 5 from Cape Canaveral on an Atlas-Agena D to conduct diverse geophysical experiments for a better understanding of Earth as a planet, and to develop/operate a standardized observatory-type spacecraft.
https://nssdc.gsfc.nasa.gov/nmc/spacecraft/display.action?id=1968-014A
1974
Died, Mikhail Klavdiyevich Tikhonravov, Russian engineer, designer at Nll-4 and Korolev design bureau, leader in development of Sputnik and Vostok spacecraft, also performed early ICBM work and a pioneering rocketeer at GIRD and Nll-3
https://www.nmspacemuseum.org/inductee/mikhail-k-tikhonravov/
1976
The first CRAY 1 supercomputer was shipped, to Los Alamos Laboratories, New Mexico.
https://en.wikipedia.org/wiki/Cray-1
1979
A photo from NASA's Voyager I probe revealed Jupiter's rings.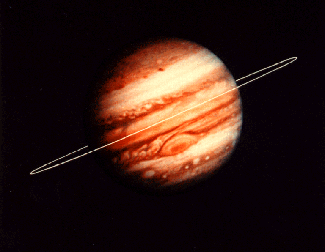 Jupiter's ring - Voyager 1, NASA illustration
Source: NASA Voyager 1 Imagery
https://en.wikipedia.org/wiki/Rings_of_Jupiter
1981
H. Debehogne discovered asteroids #2765 and #3705.
1982 20:23:00 EST (GMT -5:00:00)
NASA launched the COMSAT Corporation commercial communications satellite Intelsat 5D F-4 from Cape Canaveral, Florida on an Atlas-Centaur.
https://nssdc.gsfc.nasa.gov/nmc/spacecraft/display.action?id=1982-017A
1986
Carolyn and Eugene Shoemaker discovered asteroid #3554 Amun.
1990 10:08:44 PST (GMT -6:00:00)
NASA's STS 36 (Atlantis 6, 34th Shuttle mission, 65th US manned space mission) ended at the close of a secret Department of Defense flight.
STS 36 was launched 28 February 1990 in a classified window extending from 12 midnight to 4 a.m. EST after being postponed from 22, 23, 24, 25 and 26 February due to illness of the crew commander, a malfunction of a range safety computer, and weather conditions. It was the first time since Apollo 13 in 1970 that a manned space mission was affected by the illness of a crew member, and the sixth Shuttle mission dedicated to the Department of Defense.

STS 36 ended 4 March 1990 when Atlantis landed on revolution 72 on Runway 23, Edwards Air Force Base, California. Rollout distance: 7,900 feet. Rollout time: 53 seconds. Launch weight: classified. Landing weight: 87,200 pounds (according to NASA - but this number sounds off by about 200,000 pounds). Orbit altitude: 132 nautical miles. Orbit inclination: 62 degrees. Mission duration: four days, ten hours, 18 minutes, 22 seconds. Miles Traveled: 1.9 million. The orbiter was returned to KSC on 13 March 1990.

The flight crew for STS 36 was: John O. Creighton, Commander; John H. Casper, Pilot; Richard M. Mullane, Mission Specialist 1; David C. Hilmers, Mission Specialist 2; Pierre J. Thuot, Mission Specialist 3.
https://www.nasa.gov/mission_pages/shuttle/shuttlemissions/archives/sts-36.html
1994 08:53:00 EST (GMT -5:00:00)
NASA launched STS 62 (Columbia 16, 61st Shuttle mission) carrying the USMP-2 and OAST-2 experiments.
STS 62 was launched 4 March 1994 after being postponed from 3 March at the T-11 hour mark because of predicted unfavorable weather. Because of high seas, the solid rocket booster recovery ships left port on launch day, and recovered the boosters and their parachutes on 6 March.

The primary payloads for the mission were the US Microgravity Payload-2 (USMP-2) and Office of Aeronautics and Space Technology-2 (OAST-2) experiments. USMP-2 included five experiments investigating materials processing and crystal growth in microgravity, while OAST-2 featured six experiments focusing on space technology and spaceflight. Both payloads were located in the payload bay, activated by the crew and operated by teams on the ground. USMP-2 experiments received emphasis at the beginning of the flight; later in mission, Columbia's orbit was lowered about 20 nautical miles to facilitate the OAST-2 experiments.

The crew also worked with experiments located both in the middeck and the payload bay. These included the Dexterous End Effector (DEE), a new magnetic end effector and grapple fixture design being tested for use on the remote manipulator system arm; Shuttle Solar Backscatter Ultraviolet/A (SSBUV/A) and Limited Duration Space Environment Candidate Material Exposure (LDCE), all in the payload bay. Middeck experiments were Advanced Protein Crystal Growth; Physiological Systems Experiment (PSE); Commercial Protein Crystal Growth (CPCG); Commercial Generic Bioprocessing Apparatus (CGBA); Middeck 0-Gravity Dynamics Experiment (MODE); Bioreactor Demonstration Systems (BDS); Auroral Photography Experiment (APE-B). The Air Force Maui Optical Site Calibration Test (AMOS) required no onboard hardware.

The crew also conducted a number of biomedical activities aimed at a better understanding and countering of the effects of prolonged spaceflight.

STS 62 ended 18 March 1994 when Columbia landed on revolution 224 on Runway 33, Kennedy Space Center, Florida. Rollout distance: 10,151 feet (3,094 meters). Rollout time: 55 seconds. Launch weight: 4,519,319 pounds. Orbit altitude: 163 nautical miles. Orbit inclination: 39 degrees. Mission duration: 13 days, 23 hours, 16 minutes, 41 seconds. Miles traveled: 5.8 million.

The flight crew for STS 62 was: John H. Casper, Commander; Andrew M. Allen, Pilot; Pierre J. Thuot, Mission Specialist 1; Charles D. Gemar, Mission Specialist 2; Marsha S. Ivins, Mission Specialist 3.
https://www.nasa.gov/mission_pages/shuttle/shuttlemissions/archives/sts-62.html
1997 02:00:00 GMT
Russia launched the Zeya military cartographic satellite, the first successful launch by the Start 1 rocket (a converted SS-25 ICBM), and the first launch from the Svobodnyi cosmodrome in the Yakutia Republic in the Amur region.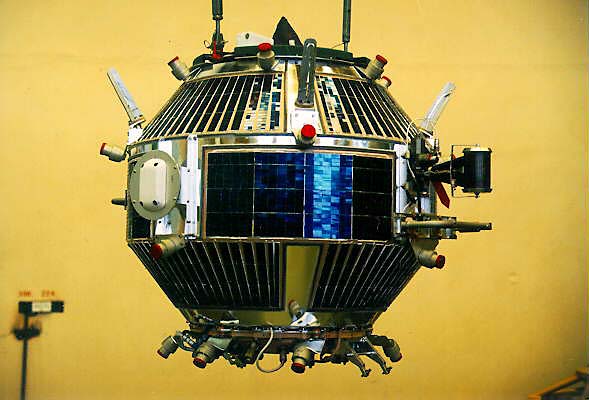 Russian Zeya military cartographic spacecraft
Source: NSSDCA Master Catalog
https://nssdc.gsfc.nasa.gov/nmc/spacecraft/display.action?id=1997-010A
---
We are going to run out of oil!
Visit SpacePowerNow.org to help fix the problem.
SpacePowerNow.org - For Human Survival
---
Please help support our efforts by shopping from our sponsors.
In affiliation with AllPosters.com
---

This newsletter and its contents are
Copyright © 2006-2022 by The L5 Development Group.  All rights reserved.
 - Publication, in part or in whole, requires previous written permission.
 - Academic or personal-use citations must refer to http://L5Development.com
   as their source.
Thank you for your cooperation.