Space History for November 30
---
If you are not already a subscriber, you are welcome to enter your email address here to sign up to receive the Space History newsletter on a daily basis. Under no circumstances will we release your legitimate email address entered here to outside persons or organizations, and it will only be used for mailing the specific information you have requested.
| | |
| --- | --- |
| Enter your email address here: | |
Unsubscribe instructions are included in every newsletter issue in case you decide you no longer wish to receive it.
Note: We record the IP address from which subscriptions are entered to help prevent SPAM abuses.
---
Race To Space
Someone will win the prize...
... but at what cost?
Visit RaceToSpaceProject.com to find out more!
---
3340 B.C.

Late in the afternoon and through sunset, a solar eclipse occurred that was recorded by Irish Neolithics at Loughcrew, Ireland, the earliest known recording of a solar eclipse.
https://www.washingtonpost.com/news/wonk/wp/2017/08/18/this-5000-year-old-stone-carving-may-be-the-worlds-first-drawing-of-an-eclipse/
1602
Born (Gregorian calendar date), Otto von Guericke, German scientist, inventor, and politician (physics of vacuums)
Otto von Guericke (originally spelled Gericke) (born 30 November 1602 (Gregorian calendar, 20 November Julian calendar) in Magdeburg, Germany, died 21 May 1686 (Gregorian calendar, 11 May Julian calendar) in Hamburg, Germany; was a German scientist, inventor, and politician (mayor of Magdeburg from 1646 to 1676).

His major scientific achievement was the establishment of the physics of vacuums. He invented the piston air pump to produce a vacuum and investigated the properties of the vacuum in many experiments.

He demonstrated the force of air pressure with dramatic experiments, e.g. in 1663 at the court of Friedrich Wilhelm I of Brandenburg, Guericke had joined two copper hemispheres of 51 cm diameter (Magdeburg hemispheres) and pumped the air out of the enclosure. Then he harnessed a team of eight horses to each hemisphere and showed that they were not able to separate the hemispheres. When air was again let into the enclosure, they were easily separated. He repeated this demonstration in Berlin in 1663 with 24 horses.

With his experiments Guericke disproved the hypothesis of "horror vacui", that nature abhors a vacuum, that for centuries was a problem for philosophers and scientists. Guericke proved that substances were not pulled by a vacuum, but were pushed by the pressure of the surrounding fluids.

Guericke applied the barometer to weather prediction and thus prepared the way for meteorology.

His later works focussed on electricity, but little is preserved of his results. He invented the first electrostatic generator, the "Elektrisiermaschine."
https://en.wikipedia.org/wiki/Otto_von_Guericke
1603
Died, William Gilbert, astronomer, physicist (researched magnetism)
https://en.wikipedia.org/wiki/William_Gilbert_%28astronomer%29
1761
Died, John Dollond, received the first patent for an achromatic lens
https://en.wikipedia.org/wiki/John_Dollond
1819
Born, Cyrus West Field, financier, underwrote the first successful transatlantic cable
https://en.wikipedia.org/wiki/Cyrus_West_Field
1894
A. Charlois discovered asteroid #395 Delia.
1918
M. Wolf discovered asteroid #908 Buda.
1932
K. Reinmuth discovered asteroid #1275 Cimbria.
1954 18:46:00 GMT
In Sylacauga, Alabama, an 8.5 pound chondrite meteorite crashed through the roof, bounced off the radio and hit Mrs. Elizabeth Hodges in her living room, yielding a bad bruise, the only unequivocally known case of a human being injured by a meteorite.
https://en.wikipedia.org/wiki/Sylacauga_(meteorite)
1964 13:12:00 GMT
USSR launched the Zond 2 flyby mission toward Mars, which successfully tested an ion engine.
Zond 2, launched 30 November 1964, was an automatic interplanetary spacecraft launched from a Tyazheliy Sputnik (64-078A) in Earth parking orbit towards Mars to test space-borne systems and to carry out scientific investigations. The probe carried a descent craft and the same instruments as the Mars 1 flyby spacecraft: A magnetometer probe, television photographic equipment, a spectroreflectometer, radiation sensors (gas-discharge and scintillation counters), a spectrograph to study ozone absorption bands, and a micrometeoroid instrument. Zond 2 had six experimental low thrust electrojet plasma ion engines for attitude control that could be used instead of the gas engines to maintain orientation. Power was provided by two solar panels.

The flight took a long, low energy trajectory towards Mars. The ion engines were successfully tested shortly after launch under real space environment conditions, over the period December 8-18, 1964. One of the two solar panels failed so only half the anticipated power was available to the spacecraft. After a mid-course maneuver, communications with the spacecraft were lost early in May 1965. Zond 2 flew past Mars on 6 August 1965, at a distance of 1500 km and a relative speed of 5.62 km/s.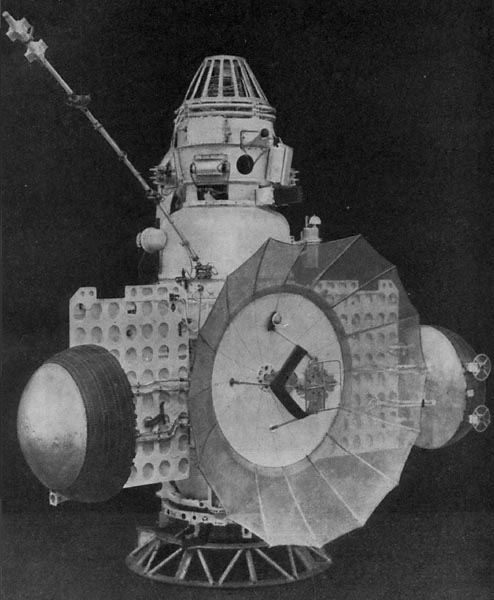 USSR Mars flyby probe Zond 2
Source:
NSSDCA Master Catalog
https://nssdc.gsfc.nasa.gov/nmc/spacecraft/display.action?id=1964-078C
1966
WWV time standard broadcasts from Greenbelt, Maryland were transmitted for the last time.
https://www.nist.gov/pml/time-and-frequency-division/time-distribution/radio-station-wwv/history-radio-station-wwv
2000 21:06:00 CST (GMT -6:00:00)
NASA launched STS 97 (Endeavor) to install the P6 Truss on the International Space Station
STS 97 was launched 30 November 2000, carrying the P6 Integrated Truss Segment to the International Space Station. During its 11-day mission, the crew of Endeavour saw the International Space Station spread its wings -- giant solar arrays that quintupled the station's electrical power.

The 73 meter (240 foot) by 11.6 meter (38 foot) solar array structure - attached and unfolded by Endeavour's international crew of five - is the longest human-made object ever to fly in space. Endeavour carried aloft the U.S.-developed solar arrays, associated electronics, batteries, cooling radiator and support structure. The entire 15.4 metric ton (17 English ton) package is called the P6 Integrated Truss Segment, and was the heaviest and largest element delivered up to that time to the station aboard a space shuttle.

The addition of the huge solar arrays clearly distinguishes the International Space Station from any predecessor spacecraft. The arrays provide the station with more electrical power than anything that has flown before.

Endeavour also was the first space shuttle to visit an inhabited International Space Station.

Endeavor docked at the ISS on 2 December 2000 at 2 p.m. CST, and undocked 9 December 2000 at 1:13 p.m. CST. It landed on 11 December 2000 at 5:03 p.m. CST after a mission of 10 days, 19 hours, 57 minutes. Orbit altitude: 177 nautical miles. Orbit inclination: 51.6 degrees. Miles traveled: 4.476 million.

The crew of STS 97 was: Brent Jett, Commander; Michael Bloomfield, Pilot; Marc Garneau, Mission Specialist; Carlos Noriega, Mission Specialist; Joseph Tanner, Mission Specialist.
https://www.nasa.gov/mission_pages/shuttle/shuttlemissions/archives/sts-97.html
---
We are going to run out of oil!
Visit SpacePowerNow.org to help fix the problem.
SpacePowerNow.org - For Human Survival
---
Please help support our efforts by shopping from our sponsors.
In affiliation with AllPosters.com
---

This newsletter and its contents are
Copyright © 2006-2023 by The L5 Development Group.  All rights reserved.
 - Publication, in part or in whole, requires previous written permission.
 - Academic or personal-use citations must refer to http://L5Development.com
   as their source.
Thank you for your cooperation.